GMX GKT110 110cc Dune Buggy Yellow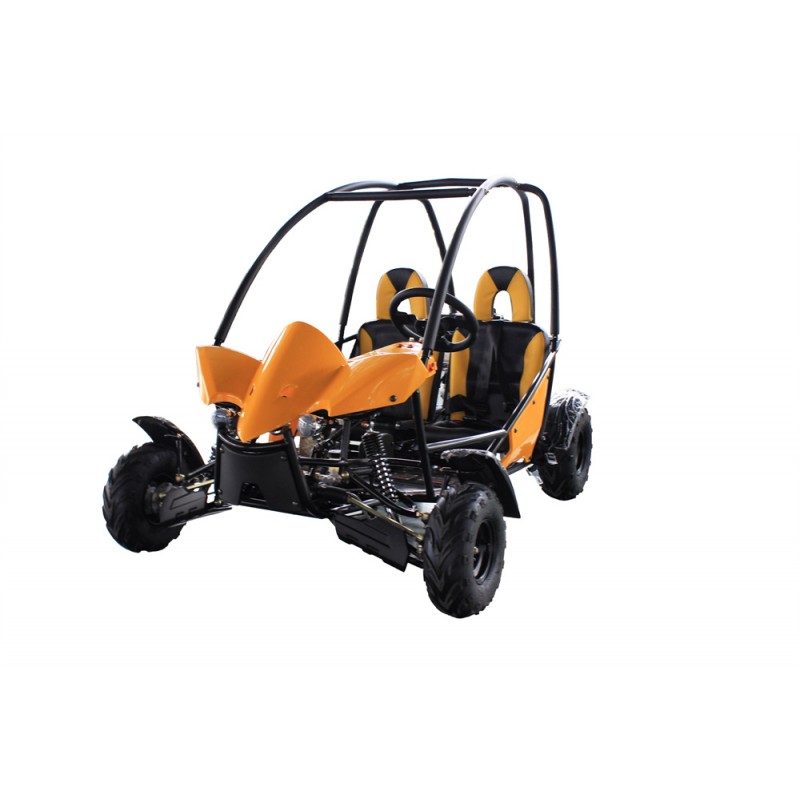 The 110cc Dune Buggy has been designed for teenagers and young adults. This ATV has been designed with the name All Terrain Vehicle in mind, designed for off-roading adventures for all the family. The cockpit is designed with all the main and functional features of your car, complete with horn, speed, temp and fuel gauge, indicators, lights. This UTV also boasts plenty of racking and rear tray for practical application, Perfect for day trips and camping. Experience the off-road world of UTV's and ATV's with more safety and comfort than ever before
General
Maximum Speed
45km/h
Battery
12v.9ah
Front Tyre
14.5x7-6
Distance between wheel (F/R)
1080/820mm
Rear Tyre
16X8-7
Wheelbase
1510mm               
Fuel Capacity
2 L/Unleaded Gasoline Above No.90    
Technical
Engine Type
110cc, Single Cylinder, 4-Stroke Air-Cooled, Three Speed With Reverse
Starting Mode
Electric Start
Transmission
Chain Drive
Front Brake
Hydraulic Brake 
Rear Brake
Hydraulic Brake 
Maximum Power
4.6kw/7500rpm
Maximum Torque
6.5N.M/7500rpm
Rider
Maximum Load
150kg
Product Size
195.5cm x 122cm x 134cm (L x W x H) 
Packaging
Product Weight
168kg
Gross Weight
202kg
Packaging Dimensions
205cm x 116cm x 64cmm (L x W x H)
GMX MOTORBIKES WARRANTY
Our goods come with guarantees that cannot be excluded under the Australian Consumer Law. You are entitled to a replacement or refund for a major failure and compensation for any other reasonably foreseeable loss or damage. You are also entitled to have the goods repaired or replaced if the goods fail to be of acceptable quality and the failure does not amount to a major failure.
The manufacturer warrants this product to be free of manufacturing defects for a period of 12 months from date of purchase. This Limited Warranty does not cover normal wear and tear( exlcusions apply) or any damage, failure or loss caused by improper assembly, maintenance, or storage or use of the GMX product. Some parts will have a limited warranty period, please see below. This warranty is a part replacement warranty.
3 Month Parts Replacement Parts
Electrical compenonts, supsenison, drive train and brakes/fittings.
30 Days Parts Replacement Parts
Bearings, tires, tubes, cables, clutches, brake pads, seats
Minor assembly is required and in the interest of safety and warranty it is recommended that you have this product assembled by a qualified, skilled small engine mechanic.
You may need to provide proof of being assembled by a skilled mechanic if not a report from a small engine mechanic advising of the issues to process your warranty claims.
The warranty is a parts replacement warranty and labor is not included, defective parts may need to be sent back for inspection.
This Limited Warranty will be void if the product is ever;
- Used in a manner other than for recreation or transportation
- Modified in anyway
- Rented or commercial use.
The manufacturer is not liable for incidental or consequential loss or damage due directly or indirectly to the use of this product.
Always adhere to the maximum load of the product, over loading the product will void the warranty.
How a claim is made
When making a claim, you will need to provide proof of purchase, condition photos of the item. This information is required to be submitted via the support center and communication is made through the support center. When the claim is created, the customer will receive the claim number and the customer support team should reply within 48 hours.
What payment types are accepted?
VISA | MasterCard | PayPal | Humm | Bank Deposit
Go Easy Bank Transfer Details
Commonwealth Bank
Account name: Go Easy Online
BSB: 063 120
Account Number: 102 44 175
*Please ensure when making payment that the order number is used as the payment reference,
if this is not done delays cam occur in applying payment to your order.
How do I know my card details are secure?
We use Secure Socket Layer (SSL) and payment gateway for all orders placed to ensure the security of your personal card details.
Our secure web pages can be identified by their URL: that begins with 'https://', while standard pages begin with 'http://'.
A padlock or key will also be visible in the bottom right of your web browser.
Go Easy Australia Fraud Protection Security
At Go Easy Australia, we have a fraud protection security procedure in place which may occur to any order placed via our website/s.
Having this in place ensures peace of mind and the highest level of security protection for all our customers who shop with GMX Motorbikes.
A notification email will be sent to you, if your order as become part of this fraud protection security procedure.
Please follow the instructions on the email and call us to get your order processed.
Can I still order online if I don't have a credit card?
Yes, you can use a debit card (VISA or MasterCard) or open a PayPal account or pay via Bank Transfer
How do I get a PayPal account?
Visit the PayPal website www.paypal.com.au and sign-up for an account.
Humm helps everyday Australians Buy Now Pay Later. Our payment plans are great value because humm customers pay no interest, ever!
Humm is fast and simple to use when you shop:
Online Simply, select humm at checkout and you will be taken through humm to confirm your payment.
In store, open the humm App and generate a barcode. Simply take this to the checkout with your purchase and they will scan or input the code.
Cancellations
You will need to submit a claim via our support center and the support team will assist you further with your enquiry.
The customer is responsible for covering the return postage/shipping carrier cost of the product being returned.

- A 10% cancellation / restocking fee will apply to all returns & refunds.
- Shipping/carrier costs are non-refundable.
- A claim needs to be placed through the support center and needs to be approved by GMX Motorbikes before the order(s) are returned.
- Your relevant order information must be on the item you are returning.
- If you have placed an order that is currently on backorder or pre-order and wish to cancel the order a 10% termination fee will apply. You can only cancel this type of order if it has not been dispatched.
By consumer law we have the right to not honor a refund or a replacement if the customer simply has a change of mind about the order(s) placed.

Note: For hygiene reasons, some products may not be returned under this policy such as helmets, clothing, safety equipment, etc.